House of Mirrors is now on Amazon's Kindle Store.  Be the first to purchase this exciting novel by screenwriter and novelist Lisa M. Logan for a limited time at 99 cents.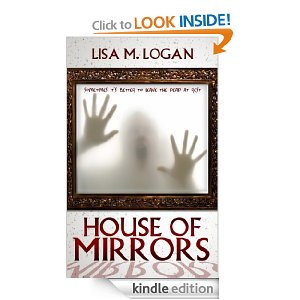 Average Rating:
3.3 rating based on 11 ratings (all editions)
ISBN-10:
ISBN-13:
B00C9817MG
Goodreads:
17793939
Author(s):
Publisher:
Lisa M. Logan
Published:
4/7/2013
HOUSE OF MIRRORS is a paranormal thriller about a woman who buys antique mirrors from an eccentric antique dealer; only to discover she has brought entities into the house attached to the mirrors. The uninvited guests cause a bit of a stir for the distraught woman who is mourning the loss of her little girl to a recent drowning. Her husband hires a psychiatrist and family friend to exorcise Eleanor's personal demons, but Dr. Kelso discovers that the mysterious mirrors hold more secrets—a few that he isn't comfortable having aired.
"House of Mirrors" taps into the universal hope and desire we all have of contacting loved ones who have died, but sometimes it's best to leave the dead at rest.